How unreason and collectivism led the seemingly civilized German society to become a Nazi regime
Self-sacrifice, Oriental mysticism, racial "truth," the public good, doing one's duty—these are among the seductive catchphrases that circulated in pre-Nazi Germany.
To this day, Nazism remains vivid in the public mind as the greatest evil in human history, and continues to be the subject or background of countless novels, films, and non-fiction analyses.
But the artists and scholars of 2014 still have no real explanation; they are no closer than they were in 1982 to identifying the fundamental roots of Nazism.
This book does.
In The Cause of Hitler's Germany—previously published as part of his 1982 book The Ominous Parallels—Leonard Peikoff, Ayn Rand's long-time associate, demonstrates how unreason and collectivism led the seemingly civilized German society to become a Nazi regime.
Available in paperback and Kindle formats.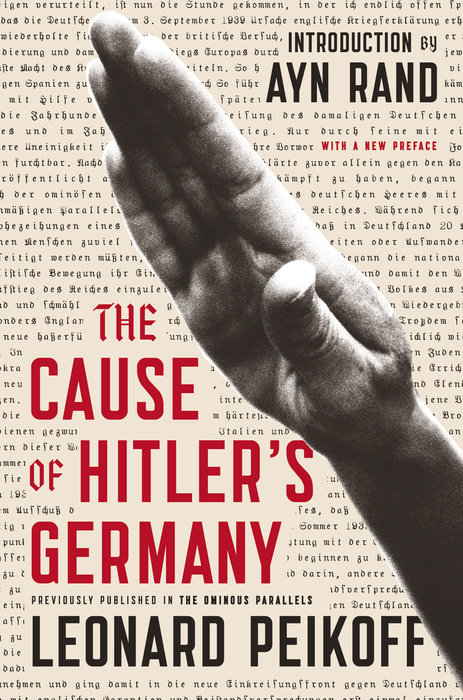 "[LEONARD PEIKOFF] SHOWS THAT A NA­TION BROUGHT UP TO REGARD THE PRINCIPLES OF DUTY AND SELF-SACRIFICE AS CARDINAL VIRTUES WILL BE HELPLESS WHEN CONFRONTED BY A GANG OF THUGS WHO DEMAND OBEDIENCE AND SELF-SACRIFICE."
— AYN RAND
TESTIMONIALS
From the previously published The Ominous Parallels:
"While today's philosophy departments make it a loud point to proclaim that philosophy has nothing to do with practical life or with reality (which, they add, does not exist)—Dr. Peikoff shows to their mangled victims what philosophy is, what it does, and how to recognize its influence all around us. He gives a virtuoso performance of shuttling effortlessly between abstractions and concretes—keeping the first tied firmly to reality and thus illuminating the second. He shows that a na­tion brought up to regard the principles of duty and self-sacrifice as cardinal virtues will be helpless when confronted by a gang of thugs who demand obedience and self-sacrifice." — AYN RAND
"Extraordinarily perceptive…frightening insights…Everyone concerned with the collectivist trend in today's world should read this book." — ALAN GREENSPAN
"A fascinating weave of German history, philosophic determinism, and Objectivist polemic." — CHICAGO TRIBUNE
"This book answers the plaguing question: How could it happen? How could ordinary people, seemingly decent Germans, turn into goose-stepping, Sieg-Heil-ing robots, eager to obey any orders, even to administer the 'final solution'–the Holocaust? This book answers those questions and makes the rise of the Nazis finally intelligible." — HARRY BINSWANGER PH.D.

"The transformation of Germany from a leading light of Western liberal society to a totalitarian nightmare has been studied, documented, and probed from dozens of different vantage points. In Peikoff's work, the focus is on the most fundamental causes, the philosophic ideas that brought about the rise of Hitler and his Nazi ideology. In addition to the detective work that brings out the philosophic ideas and movements that set up and enabled Hitler's rise, Peikoff also powerfully makes the case for philosophy as a main driver of history." — ERIC DANIELS, PH.D.